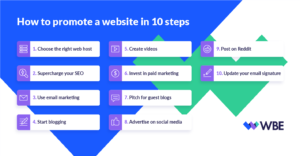 SEO, or search engine optimization, enables you to receive free traffic from search engines like Google if you're not familiar with the term.
1.SEO is organic method for website promotion
The potential traffic from a single low-competition term might not be as high. However, if you create numerous sites that target these keywords, you may wind up with a significant amount of organic search traffic.
In addition, if a keyword is specialized enough, it may convert better than a keyword with higher competition.
You don't always need to produce new material to increase visitors. Your outdated material may only require basic SEO work, such a
greater alignment of search intent with preciseness to serve the meaning.
3. Share your articles online
Third Strategy of website promotion is content syndication is comparable to guest blogging. The main distinction is that when using content syndication, the same thing is published in various locations.
Starting off with content syndication is very similar to starting out with guest blogging. You require
4. Interact with your viewers on social media
Online groups and social media platforms are areas where you can probably locate your target market. You simply need to determine how and where you can offer them distinct value. There will be many opportunities to link to your website if you have anything significant to say.
5. Establish a personal community.
People actually enjoy exchanging ideas on subjects relevant to your website.
You can provide a special value to draw in and keep your audience.
6. Create an email database and a newsletter
They are able to grow an audience and maintain regular, direct communication with them. for nothing. Such an email marketing list might grow to be one of your most important resources.
Naturally, creating an email list is not a simple task. However, if great content marketing is combined with email marketing,
7. Be highlighted in lists or reviews
Reviews and rankings abound online. There's a good chance that some of them pertain to what you do. A free strategy to increase direct referral traffic, your SEO, and the visibility of your business is to get featured (and linked).
CONCLUSION
These are easy & organic methods for website promotion  free. I do advise you to try new things and build on your successes. Go for it if you think something might be effective for your audience, even if it hasn't been attempted before. But be sure to gauge the out